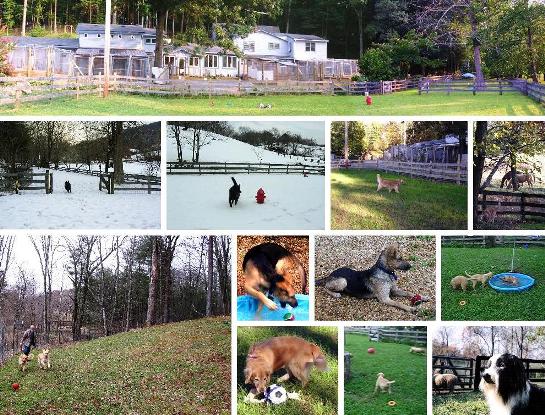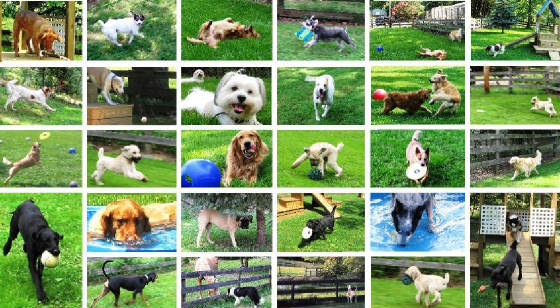 Play Yards
.
Play Yard time is an additional service that is available for unleashed playtime in an area with room to run free inside the protection of a large fenced yard. We play with the pets during their time in the yard, throwing a ball, a Frisbee and give lots of petting with praise.This is individual playtime. For safety reasons we don't put pets together that do not live together but we do supervise as family pets play together. On special request from both owners we will allow pets to play together with their familiar friends.

Pets in the Play Yards seem to know they are special and appear to show off to the pets watching from their runs.

We offer three types of play yards to suit the needs of each pet visiting with us.
Puppy Play Yard
The Puppy yard has six foot chain link fence surrounding it with terraced steps to run up, down & around and a small pool for pups to play in during the summer.Main Doggie Play Yard
The doggie yard is enclosed with three-board horse fence and covered with four-foot high anti-climb fence wire. It is located out front on a large natural grass yard between the driveway and our field.Hillside Play Yard
The hillside yard is surrounded by six-foot anti-climb fence and is built on a grass-covered slope of the hill where muscles will get a big work out. This yard is located between our home and the nature trails that go up the hillside. This yard is the choice for pets that are jumpers and is also great for strong active pets that need more of a work out.

Nature WalksWalking pets on our nature trails is an additional service for those guests that go on walks regularly at home. This service is offered to pets that have a similar routine given by their owners at home and it allows them the feeling of exploration with more one-on-one attention.


All pets must be walked on a lead outside the fenced areas. Walking one at a time is best. On special request we will walk more than one at a time, if the pets are used to a brace lead.

Nature Walks are done according to the condition of the pet. If there is question of health or safety the walk will be confined to protected areas. A pet in good condition can go on extended walks all around the property, up the wooded hillside trails, to our barn and grass area around the pond.


Many pets have enjoyed a pass by the barn where the sheep hang out, up the hill where the cats sleep during the day. Some of our visitors have enjoyed a trip to Larry's shop to say hello and get a friendly greeting while they check out the activity there.


Pampered Paws lounge

Inside play time in a recreation room set up with all the creature comforts of home. Here your pet can relax on a human lap for a belly rub, back rub or snuggle up for a movie. Pet's can also check out the toys, play games or can choose to go visiting around the inside of the facility.

.

.

.

Swim Spa / Therapy
Working out in our Swim Spa can be a great way for your pet to stay active or get into shape. It's a good cardiovascular workout, improve muscle strength, stimulate lymph circulation and increase range of motion.
Water makes exercise weightless without the jarring effects of gravity, hard surfaces and the 85 to 87 degree warm water is soothing. It's great fun for all pets but can be beneficial to pets with joint pain, arthritis, dysplasia and many other physical issues. Hydrotherapy is great exercise to help increase stamina, improve balance, increase strength, loosen tight muscles, increase flexibility, decrease lameness, increase coordination and is known to hasten healing.
Kay works with the pets on a one to one basis, taking time to gradually introduce them to the water slowly with lots of praise. Some pets will take to the water at once while others will require several visits before loving it.
Yes, we have canine life vest in all sizes and several water toys.
There is a after swim rinse, towel dry and then hair drying in our grooming room.
Longer hair pets can then be groomed by our groomer if desired.
Dirty dogs will be required to have a pre-bath before going into the pool.
---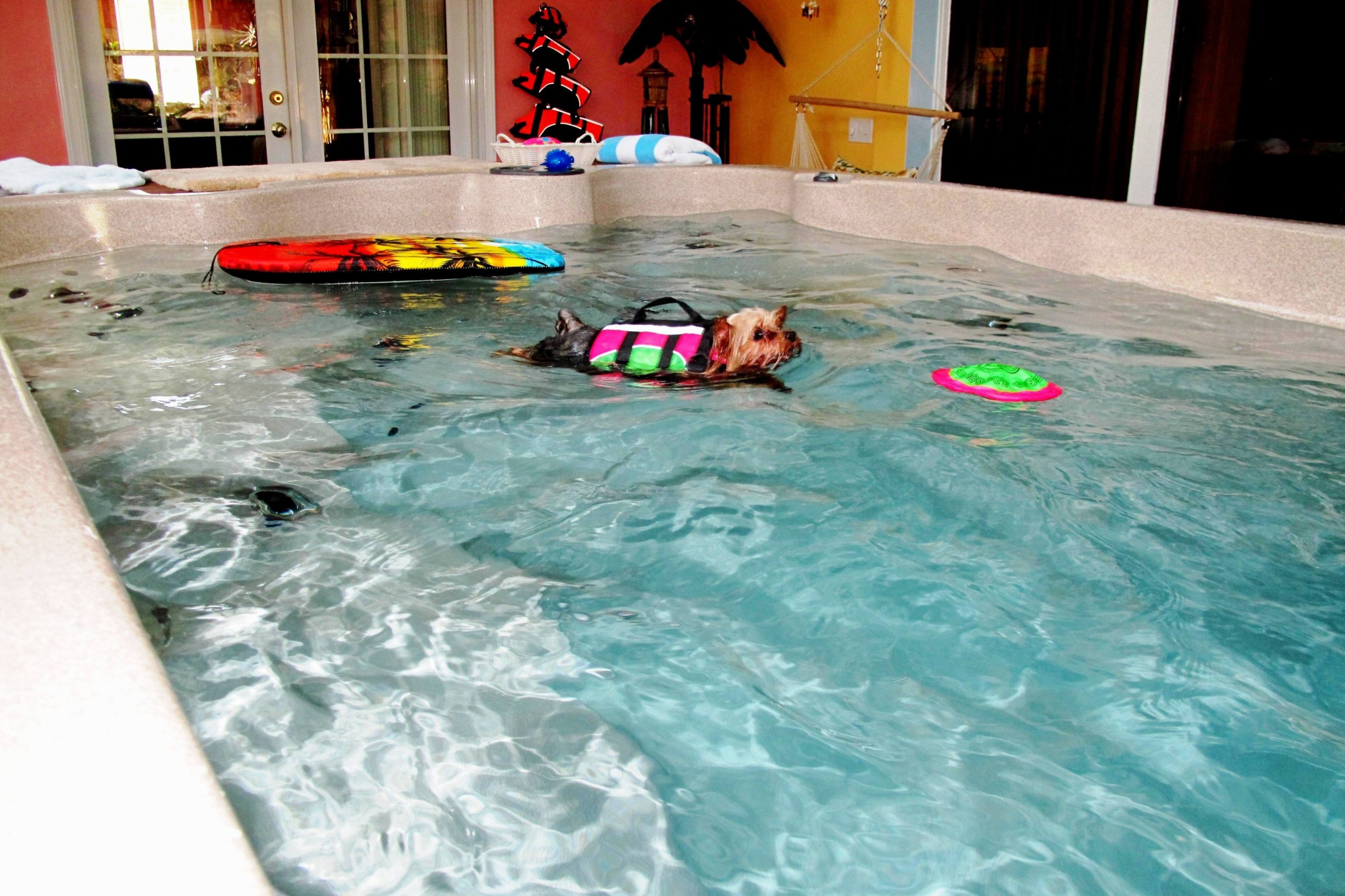 Pictured above is "Tulip" during her first Swim Spa Session.
To see pets enjoying the swim spa go to the end of our "playtime photos" page